Connected Oceans Mural
The Connected Oceans Project has been a long time in the making, and is the next phase in my youth program called the Art of Empowerment.
Working with the City of Burnaby, Burnaby RCMP, Alpha Technologies, and South Burnaby Neighborhood House I will paint one of the largest murals to date with the help of 20 community youth. In July this 220 ft. long (6600 sq./ft) building will become the first location in a series of interconnected Humpback Whale Murals to promote oceans conservation.


To help me promote the conservation these young people will be helping me paint the mural, and a whole lot more. What I am doing is encouraging these young people, who I have been working with for several weeks in class to figure out a way to make what they love and are good at a part of the project, and helping send the message of protecting the worlds oceans through their own talents.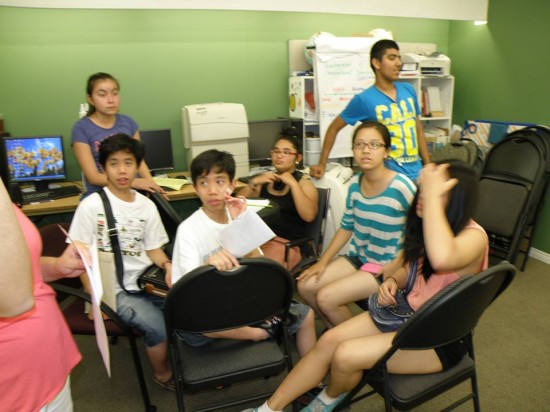 Week 1
The project has had some ups and downs. It has been really tough as the company that offered to supply the safety platform for the kids to work on has not come through. Since the terrain is pretty rough I did not want to risk twisted ankles or anyone falling into the thorn bushes, I had to cancel the youth painting sessions for the time being. Painting for me has gone really slowly, and I have intentionally taken a lot of time making sure the background colors are perfect. It is funny to say, but the colors of the background water tell a huge part of the story. Making sure there is a smooth transition from the greens of West Coast Canada waters to the blues of the South Pacific will really help to illustrate the ocean as it connects continents. There are a ton of people walking by wondering what I am doing. Instead of telling them it is a mural I explain that I ran out of green paint, and the blue paint was on sale so I decided to go with that. They usually shake their heads and walk away.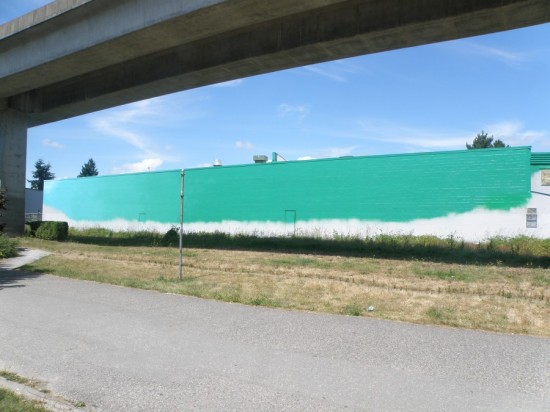 Week 2
Still no sign of scaffolding, but I have met on site with the youth that I have been working with. They are pretty disappointed and I am a little frustrated with the fact that they cannot paint. Thankfully another company SkyHigh Scaffolding has stepped up to help us out and we will have a safety platform with guardrails for the kids next week.
Such an amazing group of kids. One of the girls came up with this fantastic idea when we were talking about the things she care most about. Long story short… Her dream is to be able to impact the lives of young people that are sick or in hospitals and giving them the opportunity to do things that are extra ordinary. How about painting a mural?
2 other girls jumped on this idea and we decided to put the invite out to BC Children's Hospital. This week we are going to try to contact them to see if the girls can go work with them in hospital and then bring some of them out to paint with us. I am so impressed.
Week 3
Things have really started to roll. The platform arrived and the kids were finally able to come out and paint. We got some press coverage which is awesome for the youth to see that the community does care about what they are doing.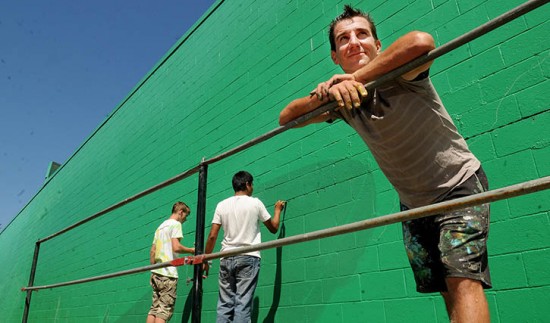 We proposed the idea of having patients from BC Children's Hospital work with us. The staff and admin loved the idea. I took the girls to meet with the director on Tuesday and we got the green light to work with their patients. The girls in my group are thrilled… and a little terrified. Nothing like taking on a dream!
Great job girls!!
Week 4
The painting has been going really well. People in the community are starting to realize that is a mural and I am not some crazy painter who ran out of green paint. The background in the Canadian (green) waters is roughed in and the first whale is taking shape.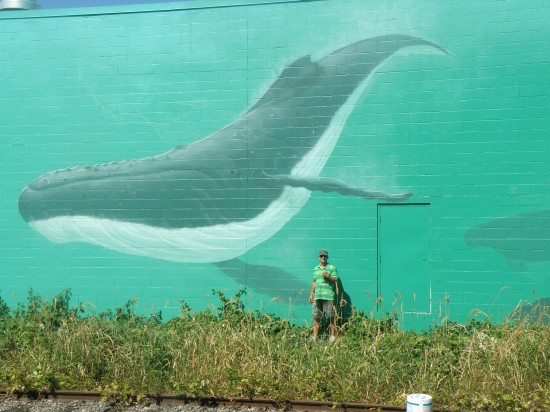 I usually try to create the concept art before I start painting a mural, but this project has been much more organic. For some reason I just could not work out the design ahead of time, and it seemed to be so much easier when working on the wall itself. It is a bit scary working like this, but I have learned to trust inspiration like this and go with it. Working a little backwards I am painting a canvas as I go along with the mural… mural first canvas second.
I think it is working.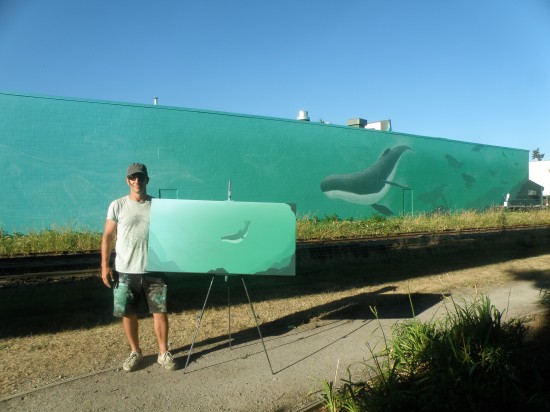 Week 5
The project is moving along really well and we have been juggling dates for the unveiling. Risking the weather changing we are pushing the unveiling back to mid September to give enough time for everyone to get back into post summer holiday life.
This week a few of the kids and I are meeting with the patients from BC Children's Hospital at the hospital to talk to them about the project and invite them out to paint with us. It should be great.
Because there is so much foot traffic along the street going to and from the skytrain line I have put out a message board that tells people about the project and invites them to take photos for an online photo contest through our online gallery. The board also has a really big sheet on the back for people to write comments. Lots of people are checking it out, and signing the sheets with such fantastic comments.
As great as it has been to really take my time for this mural I am really anxious about having the equipment I am using for such a long time. The really big lift, which is a complete lifesaver, was donated by Western One Rental. The initial plan was 4 weeks and I am now heading into week 6. I have spoken to them and they are really cool about it, but they could be renting it out for $1500 a week and I really want want to get it back to them ASAP… meaning this week. A huge thanks to Western One!!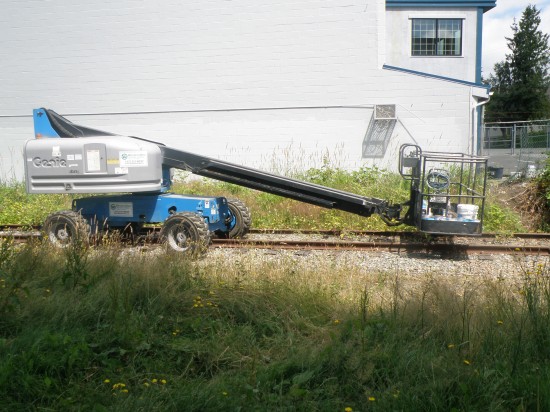 All of the big whales are in and now adding detail. I really wanted to make the scale of the mother humpback really authentic, and show a lot of detail (barnacles, scars, etc), and then to make the baby really playful. These beautiful animals have such personality and connection to each other.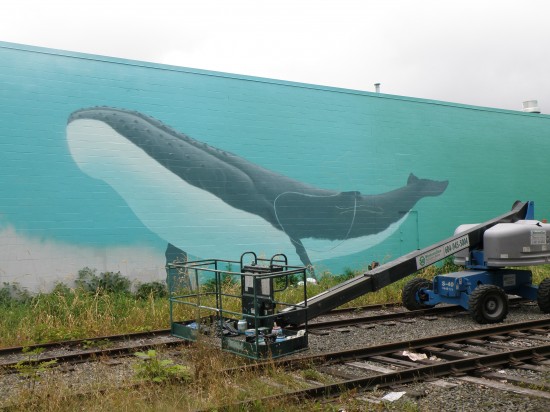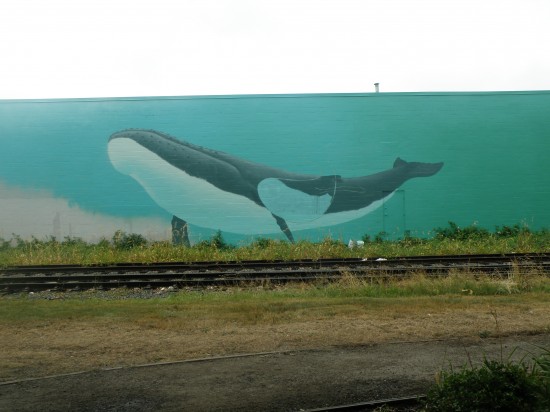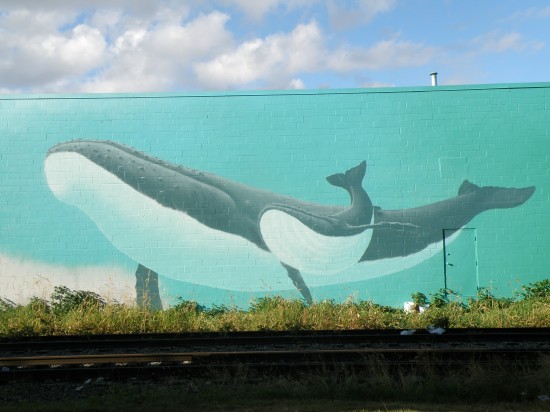 It is going to be a very busy week with kids painting the South Pacific Reef.