Art Of Empowerment Program
The Art of Empowerment is our way of connecting to the most vital people on the planet, children.
Not only are children the leaders, and decision makers of the future they are also the world best messengers. When children talk people listen. If you don't believe it watch Severn Suzuki at the World Earth Summit 1992. When children speak their words are not manufactured by profit, power, or ulterior motives but are delivered with honesty and simple wisdom that is often overlooked by adults.
With the Art of Empowerment program we work with the teachers, principals and parent groups to customize school specific projects. Integrating in class curriculum, school objectives and community characteristics we create unique environmental student participation projects that challenge children to use their talents to change the world around them.
We host an in-class workshop where children learn about their personal connection with the environment, a specific species or element of the ecosystem, and how they can make a difference in protecting it. We then put pencil to paper in a dynamic environmental art class, teaching drawing techniques in preparation for the mural creation segment.
The next steps are where things get really fun. Each class and each child participate in the creation of the school mural. And yes, we even let teachers paint!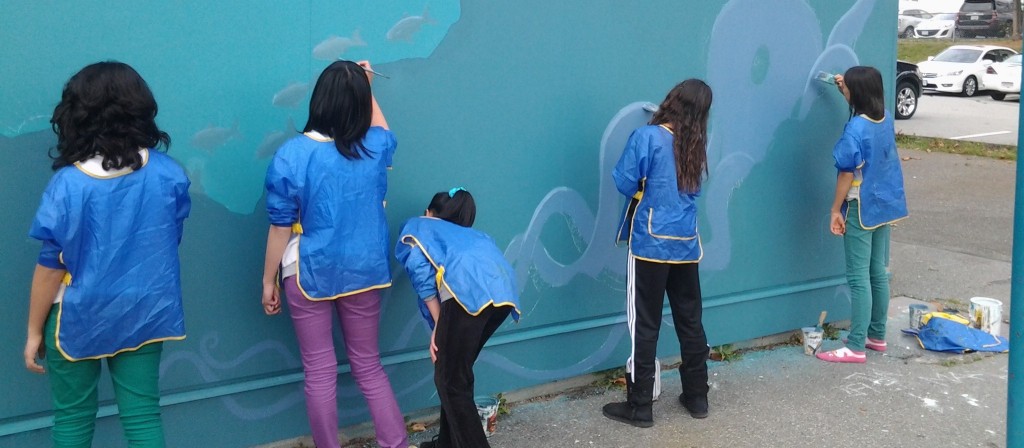 The beauty of the Art of Empowerment program is that it is fully customizable and scalable. We have built programs (preschool to grade 12) for small groups of 50 students to entire schools as large as 700 students.
The one element that we never predicted when starting this program was the synergy and spontaneous involvement that would occur outside of the classroom and outside of the "planned" project. On our first project at a local elementary school we soon realized that kids make things happen. As painting got underway groups of children began to form groups in support of the project. We had a group of grade 7 girls who took it upon themselves to be art mentors for the primary students, a photo/journalism group took pictures daily on the mural progress, and a group of recess/lunch artists began showing up to help on their breaks.
Please see the school projects and contact us if you have any questions.